Distributed Processing & Network Management (DPNM) Lab.
Dept. of Computer Science and Engineering, POSTECH, Pohang, Korea
Distributed Processing and Network Management Laboratory (DPNM) in the Dept. of Computer Science and Engineering, founded by Prof. James Won-Ki Hong in 1995, is located in the POSTECH Information Research Laboratories. Prof. Hong is a world-renowned researcher in the network management community. A few years ago, Prof. Jae-Hyoung Yoo has joined the DPNM Lab as a co-supervisor of the lab to help with research projects and graduate students. Prof. Yoo had worked more than 25 years in a telco in Korea working on design, implementation, monitoring and managing various types of networks. Prof. Yoo also served as Network Program Manager (PM) for the Ministry of ICT in the Korean government.
Since its establishment in 1995, DPNM Lab has been working on various research topics in the network management and distributed processing areas. In addition to Network Management, we have recently started R&D on Blockchain. We are also conducting a large-scale research project on Network Intelligence (6 years). DPNM is also studying artificial intelligence (Machine Learning / Deep Learning) technologies to be applied to networking and blockchain.
Below are the currently focused research areas.


SDN/NFV
** Software-Defined Networking (SDN) **

- Separation of Control and Data Planes
- Programmable Infrastructures (e.g., P4)
- Network Controller Placement and Management
- ONOS, CORD & M-CORD
- Traffic Engineering
- Virtual Network Tap
** Network Function Virtualization (NFV) **

- Core implementation technology of 5G networks
- VNF (Virtual Network Functions)
- Service Function Chaining of VNFs
- Placement of VNFs, Live Migration of VNFs
- Placement and Management of Network Controllers
- Anomaly Detection of VNFs
Blockchain and Cryptocurrency
- Blockchain Network Monitoring and Transaction Analysis
- Blockchain P2P Network Protocol Design
- Blockchain Consensus Algorithms
- Monitoring and Analysis of Smart Contracts
- Decentralized App (DApp) Development

AI-based Network Monitoring and Management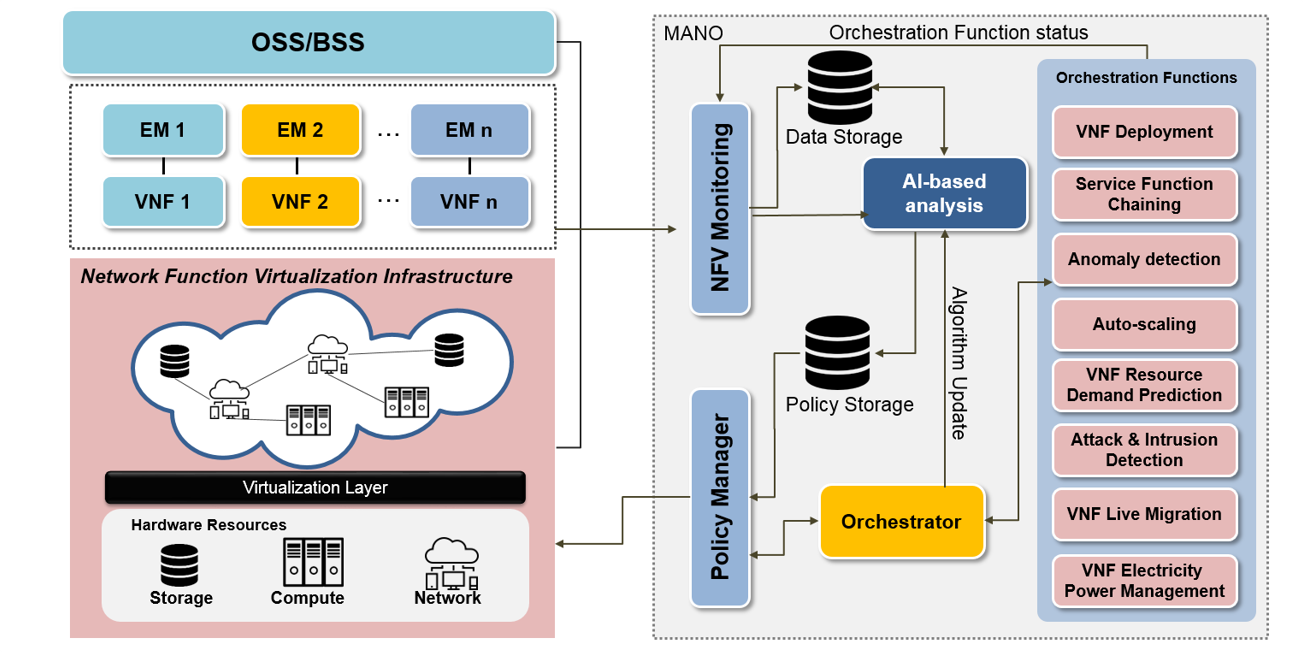 - Development of Virtual Network Management Technology based on Artificial Intelligence
- Knowledge-Defined Networking
- Network Intelligence
- Self-Driving Network Technology Research
We are recruiting new students to join above research projects!
# DPNM Student Recruitment #
We are looking for graduate and undergraduate students in the following areas:

1. Study artificial intelligence (Machine Learning/Deep Learning) and apply them to Network/Virtual Network/Cloud Management
2. R&D on Blockchain Technology
3. R&D on SDN, NFV, Cloud, IoT